The Cable Wrangler: How It Works
Are you sick of dealing with tangled cables, cords, Christmas lights, and ropes? If you get frustrated with things that tend to tangle themselves (a process we refer to as "spaghettification"), then the Cable Wrangler is for you! Simple yet effective, our cable management products are sturdy, reliable and versatile. It can be used in the studio, on construction job sites, while out on the road, backstage, in the server room, and at home in your garage. Order yours and start enjoying painless organization!
---
Step 1: Loop the Bungee Ball

After you have coiled your cable, wrap  the Bungee Ball cord around one side of the loop.
---
Step 2: Pull the Ball Through

After you've wrapped the bungee, thread the ball through the loop. Pull up to tighten the
Bungee Ball around your coiled cable.
---
Step 3: Place the Bungee Ball in Cable Wrangler

Attach the Bungee Ball to any of the twelve specially designed cups on the Cable Wrangler.

The cord hangs from the bottom.Once you've placed the Bungee Ball in the Cable Wrangler,

you can rest assured that your cable will be held securely.
---
Where Do I Put It?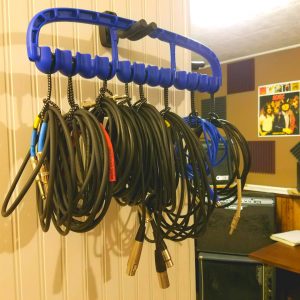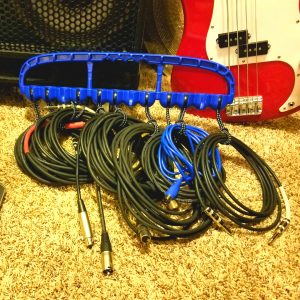 When you use Cable Wrangler's cable management products, you get options! The Cable Wrangler can be hung or installed in a stationary place, thrown in a bag or box, carried, and placed wherever is most convenient for you. Shop the Cable Wrangler and Bungee Balls online and contact us if you have questions!