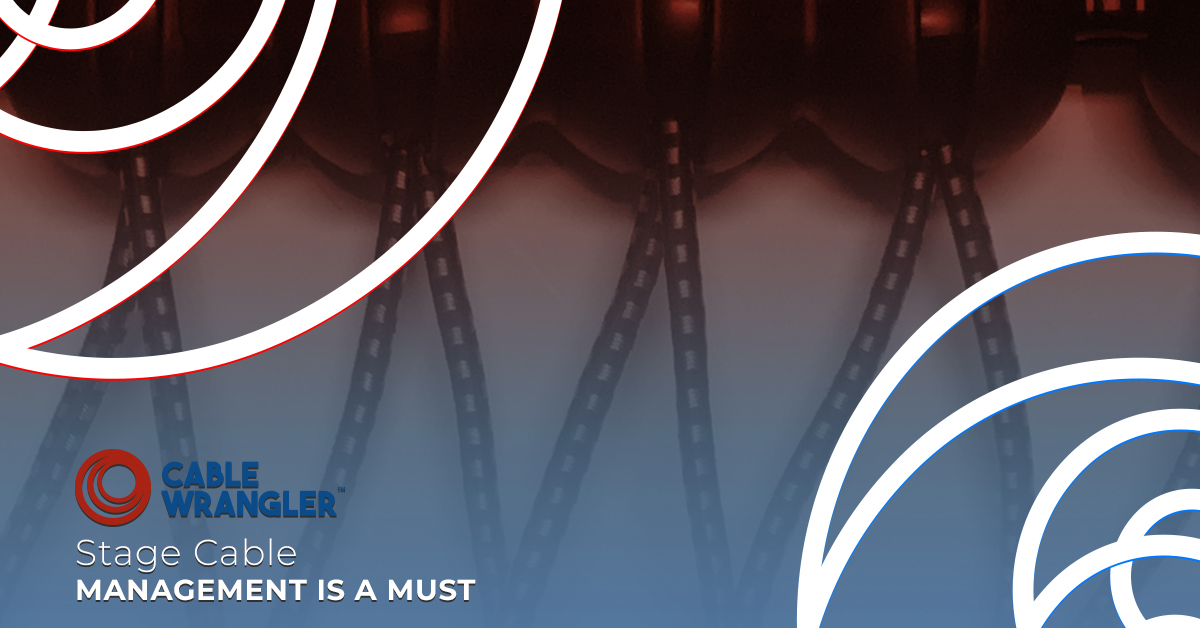 Welcome to the Cable Wrangler blog! We offer cable management products that are not only easy to use, but can revolutionize the way that you store your
cords and cables. Whether you are a DJ, roadie, sound tech, band, or another type of stagehand, you don't have time, and you shouldn't have to deal with tangled piles of cords and
cables. No matter what type of gig or performance, there is no need to waste time and energy with inefficient organization.
Say Goodbye to the Mess
We've all been there; we need that one cable and we have to dig for it. In other situations, our current organizational method has come loose and we are dealing with a tangled mess that reminds us of a rubix cube in its complexity. It's stressful and frustrating to untangle and can greatly affect the efficiency of setup and teardown. Especially, if you are about to perform, dealing with this type of situation can take you out of the right frame of mind. There should be a better way and, thankfully, there is.
Say Hello to Convenience and Peace of Mind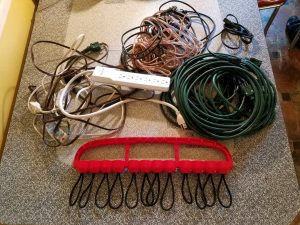 When you are dealing with what feels like a million cords and cables, you need a sure-fire way to keep them up and out of the way. That is where Cable Wrangler's stage cable management tool outshines all other makeshift organizational tools. Because of the design of both bungee balls and Cable Wrangler's tool, you don't have to worry about your cords and cables coming undone. When you are ready to store your cables, simply:
Wrap your cables and loop a bungee ball around the coiled cable.

Put the ball of the bungee ball through the loop and pull the bungee tight around the cord.

Place the ball of the bungee in the cable management tool and let the cable hang up and out of the way.
No matter if you have one or two cords or 50 cables that you have to manage, through the use of one or more of our stage cable management tools, you can save time, be more efficient, and have greater peace of mind setting up for a show and tearing down after. Also, you won't have to worry about your cables being stepped on, runover, or kicked — all things that can contribute to the early deterioration of even quality equipment.
Cable Wrangler's Cable Management Products
Cable Wrangler offers simple, yet extremely effective cable management products that can work with your needs. Have ropes, light strings, or other "string-like" stage equipment to keep track of, set up and tear down? You can use the Cable Wrangler tool the same way! Simply wrap the rope or light string up like you would a cable, place the bungee ball around it, and put the bungee ball in the cable management tool. Our tool can be installed backstage, in your equipment trailer, and anywhere you store your cords or cables.
Shop Online!
Like with anything, it's time to work smarter and not harder. Utilize a stage cable management tool that will work for you, making your stage job, your time gigging, and those months spent out on the road so much easier. To learn more about our stage cable management tool, visit the Cable Wrangler website! We sell our cable management tool as well as bungee balls online. Shop all of our cable management products and be sure to check out our blog for tips, tricks, and other information relating to Cable Wrangler's products.