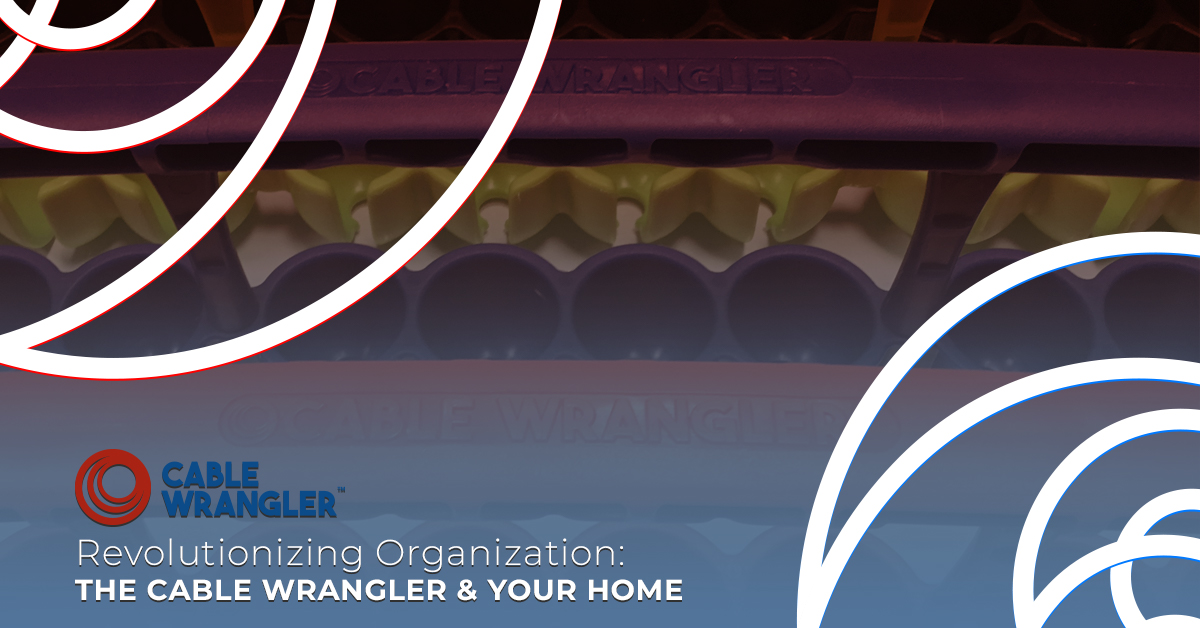 We've all been there. We use an extension cord and wind it up, let it sit on the floor and the next time we go to use it, it's tangled into a knot that feels very much like a nightmare. Or maybe it's a string of Christmas lights that you'd rather throw out than attempt to untangle. No matter what kind of cord or cable, the Cable Wrangler has the solution for you! Keep reading to learn how to fight the spaghettification of your home's cords and cables.
Extension cords
The Cable Wrangler and included Bungee Balls can not only effectively organize your extension cords, but also easily keep them out of your way. Simply coil your extension cord as you normally would, wrap the Bungee Ball around the cable and tighten, then hang the Ball of the Bungee Ball in the Cable Wrangler. Hang your Cable Wrangler from a nail on a wall or a hook from your ceiling. You can also toss the Cable Wrangler on the floor or in a box. No matter how you use this revolutionary cable management product, you can rely on your cords staying right where you want them.
Holiday lights
Does the thought of having to untangle holiday lights before adorning the Christmas tree make you break out in hives? Have you become jaded about the happiest time of the year? The Cable Wrangler is here to save Christmas! You will feel the warm fuzzies of the holiday season once again when you no longer have to battle it out with tangled strings of lights. Simply use as you would with your extension cables and store your Cable Wrangler with your holiday decorations!
Computer cables
Even when they aren't maneuvered as much as say your extension cables, computer cables have a keen ability to become wrapped and tangled around anything and everything in the same area. Instead of spending time untangling your cables, use the Cable Wrangler to not only organize your cables and store them out of the way, but also keep them from becoming knotted together.

Climbing gear
Do you love to climb, but hate how your ropes and other equipment seem to always get tangled while not in use? Do have a lot of gear that you need to keep, but don't use on a consistent basis? A Cable Wrangler might just be what you need to store your ropes off the floor and out of the reach of spaghettification!
Gym equipment
Though most gym equipment stacks well enough, what about resistance bands and other similar types of gear? Most of us only have the 30 minutes or an hour to dedicate to working out, why spend any amount of time messing with the untangling of your equipment? Let's be honest, when there are calories to be burned, no one has time to mess with knots!
If you are done with messing with nests of cords, cables, wires, ropes, and various other items that are tangled into nightmarishly complicated knots, it's time for you to invest in the one cable management product that works: the Cable Wrangler and Bungee Balls! Shop our online store!